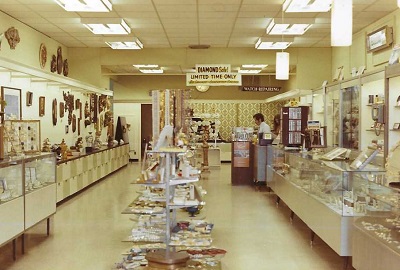 In 1967 in Rochester, NY, there was a small 3 store chain known as Trio Jewelers. These stores were little more than a blending of greeting cards, gifts, and "costume" jewelry. Trio was owned by three gentlemen who were not jewelers, nor were they involved in day to day operations. This long distance ownership resulted in each store doing poorly. The district manager of Trio, buoyed by the reputation of Jim Iovino's expertise in the handling of several of Rudolph Jewelers' chain locations, recruited him to manage the largest--and poorest functioning-- store located in Ridgemont Plaza in Greece, NY. Jim had been trained by exacting master jewelers and had an inherent love of jewelry and the excitement of helping someone celebrate a life milestone. After joining the Trio organization, in a short time, he attracted new clients and brought the Greece store back into positive sales figures.
Happy to see plus figures, the Trio owners approached him and told him they were selling all the stores. Would he be interested in purchasing the Greece store? This is where the adventure began.
Jim Iovino was young, his wife knew very little about jewelry, and they had a new baby. Jim and Dina contacted their attorney and their accountant, hoping these professionals would reinforce their dream of owning the business. Sadly, both attorney and accountant counseled them to "forget it!" But Jim and Dina were enthusiastic, energetic, and determined. They pooled their resources (which were limited), secured a home equity loan, and used those funds as a down payment.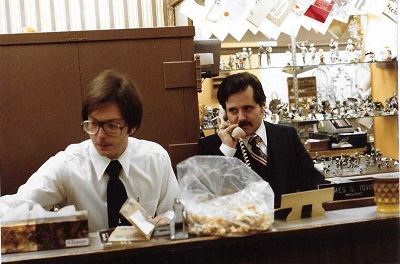 As a result, in September 1969, Jim and Dina Iovino became the proud owners (along with the mortgage holder) of their very own store, but there was a problem. They didn't want to keep the Trio name. They considered "Jim's Jewelers", but it seemed way too casual. "Iovino Jewelers" was better…but the name had so many vowels, and was so hard to remember, (let alone pronounce), it was taken out of the running. Dina thought "Heritage Jewelers" sounded like a possibility. It seemed to embody what Jim believed in….permanence, quality, and value. So, Heritage Fine Jewelers was born. Unlike today,at that time Heritage Jewelers was the only "Heritage" under "H" in the phone book.
Jim continued to be dissatisfied with the mix of merchandise left over from Trio. Over the next two years he phased out greeting cards, and most of the giftware. His continuing love of fine jewelry dictated that the "costume" jewelry, which was little more than plated brass, had to go. New cases were brought in and he began to fill them with diamonds, 14K gold, gemstone jewelry and designer lines that he hand selected.
And customers came. Jim's reputation for fine quality at a reasonable price attracted so many customers that at holiday time people would line up and wait to work with him. This was a time of great growth…in business, in knowledge, in contacts and in experience. The store was remodeled and luxury touches added. Each staff member was personally trained and supervised by Jim to treat every customer as a friend. He nurtured the family feeling to include his staff and his customers. Dina joined the business full time in 1973. During the Christmas holidays, she would cook dinner every day for the staff. And sometimes, even customers had a bite. There was an inherent atmosphere of camaraderie between staff and customers. They were all members of the Heritage family.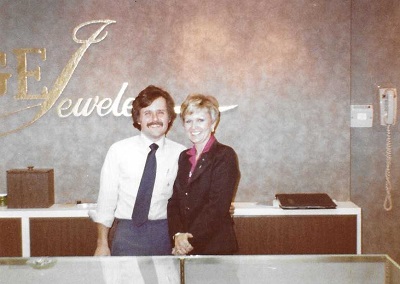 In 1980, while on their once a year vacation on Cape Cod, there was a knock on their cabin door. It was a policeman bearing the news that the Chase Pitkin store next to Heritage in Ridgemont Plaza was on fire. Jim knew there was nothing they could do but wait anxiously for news about the Heritage store. Luckily there was a fire wall between Heritage and Chase Pitkin, and the store suffered only smoke and water damage to the carpeting. Heritage opened for business only a week after the fire. Chase Pitkin was not so lucky and was heavily damaged and subsequently razed.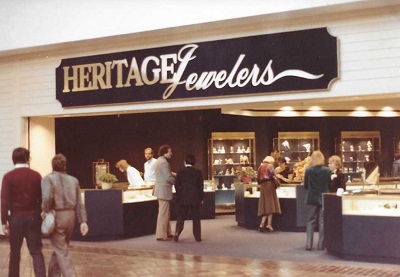 In 1982, Dina contacted the builders of Marketplace Mall to see if it would be possible to open a store in this newest planned regional mall. She was told there was no opening available. However, in July, she was informed that another jewelry store had pulled out and a space was now available. That meant there were barely 90 days to design, build (from a gravel floor up) fabricate, and stock a store that had to open by October 7 or be penalized $1500.00 per day. The Iovinos had never opened a store from scratch, and they made plenty of errors, but nevertheless were ready and opened on October 7.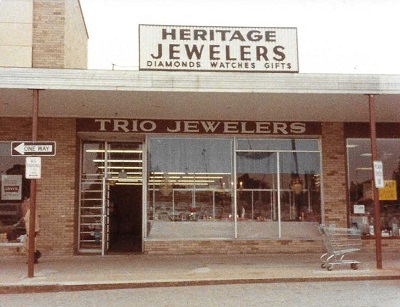 In February of 1983, the last store of the Trio chain, in Culver Ridge Plaza, was still open and under the aegis of the original owners. Once again these owners approached Jim and Dina. Jim decided that Heritage should add a third store. As a result, Heritage Fine Jewelers grew from one store to three stores in less than six months. There were many lessons learned over the next few years, not all of them pleasant, but all of them valuable.
In 1984, their son, Jim, Jr., officially joined the day to day business after taking training as a goldsmith. Subsequently he attended the Gemological Institute of America, obtaining a GIA Graduate Gemologist degree. He then joined his father in hand selecting all diamonds that were brought into the company. And in 1995, he opened and managed a new Heritage Fine Jewelers store in Eastview mall.
Consistently, Heritage growth was fueled by the constant attention given by family members to the selection of fine jewelry, unique styling, and outstanding value. If it was beautiful, but too costly, it wasn't for Heritage. If it was unique, but not wearable, it wasn't for Heritage. If it appeared to be a good value but was poorly made, it wasn't for Heritage. Heritage always offered those things their name implied….uniquely styled fine jewelry, excellent value, and quality that would last.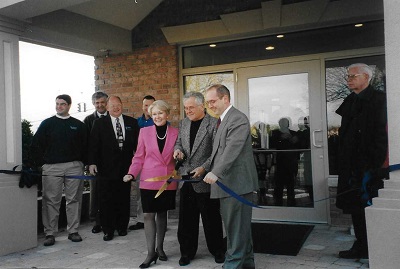 In 2001 after years in local malls, Heritage did some soul searching, and Jim Sr., Dina and Jim Jr., decided in the hustle and bustle of four locations, they were no longer able to forge personal long term relations with their customers. Heritage had strayed too far from the standards to which they remained committed. They closed the mall operations and opened a super store on the corner of Long Pond Road and Ridge Road West in Greece. This location was only a short block from the original store in Ridgemont Plaza. This super store was a reaffirmation of the commitment to those principles Heritage Fine Jewelers represents.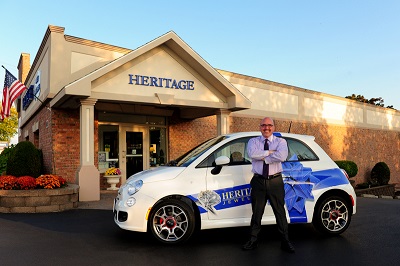 Heritage customers are all important. They are the lifeblood of the company and the source of Heritage pride and joy. It is imperative that every encounter, whether large or small, reflects our commitment to style, quality, and outstanding value. At Heritage Fine Jewelers, we are dedicated to making your experience one of intense satisfaction, pride of ownership, and enduring pleasure. All of these reflected when you say "This is from Heritage. We're part of their family."